»
»

Empire of the Sun 35th Anniversary Steelbook
Empire of the Sun 35th Anniversary Steelbook
Empire of the Sun is getting a 35th Anniversary 4K UHD Steelbook release in December.
Steven Spielberg's Empire of the Sun is an inspiring, action-packed epic of a small boy in a great war. That boy is Jim Graham, a young Briton whose unconquerable spirit soars high and free above the harsh confines of a Japanese internment camp during World War II. Through his eyes we see the fascination and horror of war. And we see Jim's hold on childhood weaken as his struggle to survive grows fiercer.
Based on J. G. Ballard's memorable best-seller, this first major Hollywood studio production ever to shoot in the People's Republic of China earned 1987 National Board of Review awards for Best Picture and Director, as well as a special citation for Outstanding Juvenile Performance for Christian Bale as Jim.
Includes
All-New Digital Transfer Remastered in 1080p Hi-Def
Behind-the-Scenes Documentary The China Odyssey: 'Empire of the Sun,' a Film by Steven Spielberg
Studio: Warner Bros.
Run Time: 153 mins approx
Number of Discs: 1
Release Date: December 12, 2022
Order Now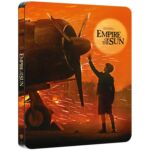 Bluray
Steelbook
Empire of the Sun 35th Anniversary Steelbook

£17.99
You might be interested in